About Chris and Michelle Richard
The Driving Force:
You may wonder how we became "Almost Home". You may also wonder how we tolerate working together 7 days a week. Here's our story…

Chris and I both grew up in the same small town of Burrillville, RI. We went to school together since kindergarten. We had separate friends, different classes, different interests and we even lived on opposite ends of town. Aside from one shared class, we hardly crossed paths. After graduation, like most people from high school, we carried on with our lives and each started a family. Many years later we found each other, only this time everything changed. We became instantly inseparable. Chris had 3 children from his previous marriage, I had 3 children from mine. All those who have known us could see the obvious "sparkle" that was never previously there. This would be the year, a decade later, that sparkle is still there and we're still inseparable. This was one of the deciding factors that drove our desire to work together. But how do we make it work when we live AND work together?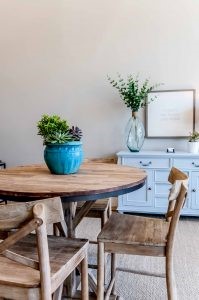 Chris spent years in upper management. He is very analytical. He is "the business man". Initially, when I became licensed early in 2010, Chris spent his off hours working on my websites, the photography for my listings and the floor plans. By 2014, I was blessed with enough success that he was essentially working 2 jobs just to keep up with my needs. This would be the year that he left the corporate world of management to join me full time.

Prior to real estate, I spent years in retail and bank management. Real estate had always been a dream of mine, but it's a big step to leave a weekly paycheck with excellent benefits for the world of the unknown. Thanks to Chris's support and encouragement, I followed my dream.

Chris and I have been working together as the "Power Couple" since 2014. We both have different responsibilities which keep us working together without stepping on each other's toes. For instance, Chris still handles a majority of the photography and floor plans, the business plans, facilitates the marketing (and helps calm me down sometimes!) I handle the negotiations, the social media, the contracts, the scheduling and the financials. Our mission, though, is the same. We both believe strongly in service above all else. Whether in corporate management, retail and banking management or real estate, there is no substitute for exceptional service. Everything else falls in place when you take care of that one little piece. Chris and I have never "sold" a house. That's not what we do. That's not who we are. We are not in the sales industry; we are in the service industry. That, I feel, is why we are trusted. Our job is to determine the goal of our clients and make it happen seamlessly. Whether we are helping a first-time home-buyer, the seller of a multi-million-dollar estate, a military relocation family or a referral from a past client, we strive to deliver MORE.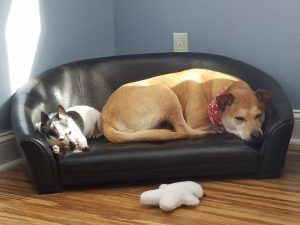 Chris and I have lived in South County since 2008. We share our home in Charlestown with our fur babies, Monster (Chihuahua) and Charlie (American Dingo). Thanks to the love that these two guys have brought into our home, we try to give back by donating to our local Animal Rescue League. Our niece, daughter and grand- daughter have each spent time with the wonderful teams at Hasbro and Boston Children's Hospital so we are large supporters of both. When we are not working diligently for our clients, you can find us enjoying a glass of wine at our favorite vineyard, reading a good book on a local beach or exploring in the Jeep with the top down while listening to Dave Matthews.

So that's our story. We look forward to meeting you and hearing YOUR story.

With us, you're Almost Home.

Proud Members of:
National Association of REALTORS®
Rhode Island Association of REALTORS®
Kent Washington Association of REALTORS®
Eastern Connecticut Association of REALTORS®
Central Massachusetts Association of REALTORS®
New Haven Middlesex Association of REALTORS®
Ocean Community Chamber of Commerce (Greater Westerly-Pawcatuck)
Charlestown Chamber of Commerce
Greater Mystic Chamber of Commerce
Southern Rhode Island Chamber of Commerce
Northern RI Chamber of Commerce
Northeastern CT Chamber of Commerce

Proud Sponsors of:
Animal Rescue Rhode Island
Westerly Armory

P.S. – We take our education about the Market and Industry very seriously. Our Alphabet Soup at the bottom of the page is the tip of the iceberg!