Welcome to South Kingstown, Rhode Island

Why we ❤ South Kingstown…
South Kingstown is home to so many unique places. If it is a show you are seeking, you are sure to find one at Theatre By the Sea or The Contemporary Theater. In the mood for a tasting? Check out Whalers Brewing Company, Sons of Liberty Spirits or Proclamation Ale. As with the other coastal towns, South Kingstown boasts several town and public beaches of its own. Our most favorite place to eat in all of South Kingstown? The new Chophouse Grille in Wakefield. The owner, Chris, and his team (especially Matt & James) have been taking care of us for years. Previously at another local restaurant, when they moved we moved with them. With a new and absolutely amazing chef and a whole new look, this is absolutely the place to go in all of South County. Stop in, tell them we sent you!
South Kingstown

A town in Washington County, Rhode Island, United States. The population was 30,639 at the 2010 census. South Kingstown is the largest town in Washington County and is the largest town (land and water area) in the state of Rhode Island.
History

The town of South Kingstown was formed in 1722 when the former Kings Towne was split into two parts, the other being North Kingstown. South Kingstown was incorporated in 1723. In 1888 a narrow strip of land running along the eastern bank of the Pettaquamscutt River to the shore of Narragansett Bay was separated from South Kingstown to form the town of Narragansett.
Geography

According to the United States Census Bureau, the town has a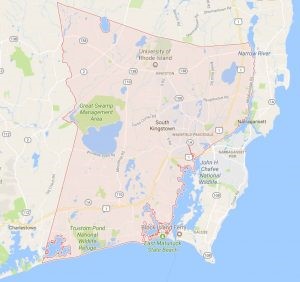 total area of 79.8 square miles (206.6 km²), of which, 57.1 square miles (147.9 km²) of it is land and 22.7 square miles (58.7 km²) of it (28.43%) is water. South Kingstown includes the villages of Kingston, West Kingston, Wakefield, Peace Dale, Usquepaug, Snug Harbor, Tuckertown, East Matunuck, Matunuck, Green Hill, and Perryville. Peace Dale and Wakefield are treated as a census-designated place called Wakefield-Peacedale. Ocean Ridge, Indian Lake, Curtis Corner, and Torrey Hill are among the other small areas that are regarded as unique localities, although official distinctions are less clear. Middlebridge, located on the west side of Narrow River, is a densely populated neighborhood in the town.
Demographics
As of the census of 2000, there were 27,921 people, 9,268 households, and 6,394 families residing in the town. The population density was 489.0 people per square mile (188.8/km²). There were 11,291 housing units at an average density of 197.8/sq mi (76.4/km²). The racial makeup of the town was 91.11% White, 1.57% African American, 1.61% Native American, 3.08% Asian, 0.05% Pacific Islander, 0.73% from other races, and 1.86% from two or more races. Hispanic or Latino of any race were 1.77% of the population. There were 9,268 households out of which 34.0% had children under the age of 18 living with them, 56.4% were married couples living together, 9.4% had a female householder with no husband present, and 31.0% were non-families. 24.2% of all households were made up of individuals and 9.6% had someone living alone who was 65 years of age or older. The average household size was 2.56 and the average family size was 3.07. In the town the population was spread out with 22.5% under the age of 18, 19.8% from 18 to 24, 24.4% from 25 to 44, 21.7% from 45 to 64, and 11.6% who were 65 years of age or older. The median age was 34 years. For every 100 females there were 90.5 males. For every 100 females age 18 and over, there were 87.5 males. The median income for a household in the town was $56,325, and the median income for a family was $67,912. Males had a median income of $50,519 versus $31,087 for females. The per capita income for the town was $23,827. About 3.1% of families and 5.3% of the population were below the poverty line, including 4.9% of those under age 18 and 5.0% of those age 65 or over.
Arts and culture

Art galleries include the Hera Gallery (Wakefield), South County Art Association (Kingston), and sometimes the Courthouse Center for the Arts (or CCA, West Kingston). Theaters include The Contemporary Theatre (Wakefield), the Theatre-by-the-Sea (Matunuck), and the CCA. The sole cinema is South County Cinema 8 (Wakefield), which replaced the independently run Campus Cinema (Wakefield) in the early 2000s. There are numerous venues for music and other entertainment, including the University of Rhode Island's Ryan Center and smaller venues such as Lily Pads (Peace Dale), and the CCA. Arts and cultural education is also offered through community centers like The Guild and the Senior Center in Wakefield. There are also three public libraries which are located in Kingston, Matunuck, and Peace Dale.
Athletics

The Ocean State Waves of the historic New England Collegiate Baseball League play their home games at Old Mountain Field located at 875 Kingstown Rd.
Museums

The South County History Center, located in the village of Kingston, is located in a former jail building and contains a collection of fine Early American artifacts.
Points of interest

South Kingstown is the location of the deadly Great Swamp Fight that occurred during King Philip's War in 1675. The battle site is commemorated by a rough granite shaft about twenty feet high. Around the mound on which the shaft stands are four granite markers engraved with the names of the colonies which took part in the battle. South Kingstown is home to 31 sites listed on the National Register of Historic Places, 4 of which are historic districts. A driving tour is described by the Pettaquamscutt Historical Society.
Kingston Village Historic District, located in the village of Kingston
Peace Dale Historic District, located in the village of Peace Dale
Usquepaug Road Historic District, located near the village of Usquepaug
Wakefield Historic District, located in the village of Wakefield
Government

South Kingstown was previously governed by town meetings, like many other New England towns, until recently when it switched to a council-manager government in an attempt to keep order to the government of a town with about 30,000 residents.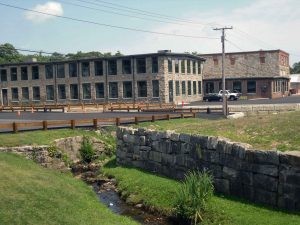 All 5 seats on the Town Council are at-large seats that are up for election every 2 years, with no term limits. After each election, the newly elected Council members elect two of their own as President and Vice President. Quite often (but not always, and not currently), these are the two highest vote-getters in the previous election. The current President is Abel G. Collins (I), and the current Vice President is Margaret M. 'Meg' Healy (D). The town's citizens also elect a 7-member School Committee. Committee members are elected to staggered 4-year terms, with 4 seats typically up for election in U.S. Presidential election years and the other 3 typically up for election in midterm election years. The current Chair is Raissa Mosher (D) and the current Vice Chair is Maureen Cotter (D).
Education
South Kingstown is served by the South Kingstown School District. The district includes nine schools that serve students in grades prekindergarten to twelfth.

Source: Wikipedia