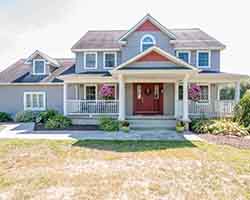 02/09/2016 – shaynacimarelli


The Richard Team was absolutely amazing! I highly recommend them! We first listed with a local agent who was supposedly a "top seller" and after close to a year of maybe 4 showings, and barely any communication or feedback from the agent, we decided to find another agent. Chris and Michelle were

recommended to us and from the start they were so incredibly knowledgeable and professional. They went out of their way to make sure our listing was perfect. They created floor plans, maps, and the professional photos blew us away (considering our previous agent just snapped some I Phone pics). After listing we immediately started receiving showing requests, which Chris and Michelle were present for! We received feedback within the same day and within 3 months and countless showings, we had an offer which was right within where we wanted to be! My only regret is that I did not find the Richard team sooner! They are amazing people, with amazing work ethic and impeccable attention to detail! My husband and I could not recommend them more!
Link to Original Review…

Response from Chris & Michelle Richard on 02/16/2016
Daniello & Shayna, Thank you so much for giving us the chance…for not giving up! Selling your home can be stressful (especially when we make you move furniture!). I am pleased that even though it took longer than you (originally) planned, we were not only able to sell your home, we were able to find exactly the right people who would love it as much as you did. You have a beautiful family and we both look forward to seeing your amazing decorating skills at work in your new place. Thank you!



— shaynacimarelli